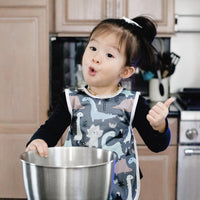 Hello!
At Mama Yay, you'll find things that make you Mama (& Papa) go YAY!
We ourselves are mama & papa who just have a penchant for clever baby solutions that make growing up a little more fun for you and your lil' ones! So, check out our curation of good stuff that we hope you enjoy too!
For a start, we bring you Bapron! Not just a bib, not just an apron! It is Bapron! Bapron is designed with growing babies in mind. Bapron is the perfect companion for messy meals and crafting. Because our baprons tie around the body and not their little necks, kids feel calm and comfortable.  
Each bapron is hand cut and sewn with love for your little one. Bapron is all 100% baby safe, BPA free, CPSIA compliant, and 100% lovingly made in the USA.
Mama Yay is the Exclusive Distributor of Bapronbaby, Numnum, Kiddikutter, Doidy, Bickiepegs and GoSili!
Shop All Products
Why everyone loves Bapron?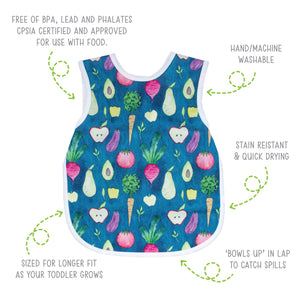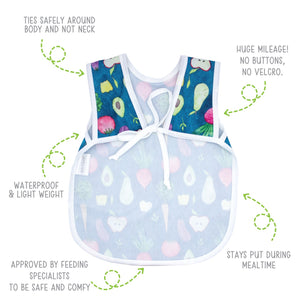 Testimonials
⭐⭐⭐⭐⭐
I bought Bapron to try and never regretted it! ✅ No more food dropping into the gap between the bib & his clothes ✅ Long enough such that it still catches some food on his lap ✅ Good coverage such that it still seems like a part of what he's wearing so baby T doesn't try to pull it off, fiddle with it or mouth it.

Michelle
⭐⭐⭐⭐⭐
Bapron is super value for money as it grows with #bebewei; it can be used from 6months (for #meimeiwei or #didiwei in future) to 3years old. And thanks to the unique design and material, the Bapron dries really quickly so Mama does not need to get a whole bunch of Bibs like what she did before only to have #bebewei yank them out after awhile 🤦🏻‍♀️.

Sheryl @raisingbebewei
⭐⭐⭐⭐⭐
My girl doesnt want to wear a bib for a long long time and babies are honestly messy eaters(we all know that 🤭). In fact 2 days in after she wore your Bapron..she accepts it that every meal time she has to wear that and no longer struggle to take it off. Very impressed and happy with your product! I'm getting 1 more soon! ❤

Mrs Yeow @babynaz
⭐⭐⭐⭐⭐
Charise and Mama loves Bapron! Now I have to get a few more haha! Ever since Charise started using Bapron, she simply loves it! It's really soft, light weight and not hot to use! Material is both safe for baby and 100% waterproof. No more food / food stains on her - esp when we were out eating.  Super easy to clean - just wipe it / rinse under water / throw it into my washing machine. Pretty awesome designs - kids love colourful and pretty prints. It is not just for meals, it can be used for any art and craft sessions too!

Grace Tang @graceytang
⭐⭐⭐⭐⭐
Masen likes this bib-apron hybrid as he's no longer tugging at it, like he wants to get it off his neck! Baprons are secured around the body, not the neck, which makes it impossible to yank off without mummy's help! Woohoo! Mama 1 - 0 Masen.

You'll probably like how lightweight, waterproof and easy to wash!

Jaclyn @jaclynmeiqi
⭐⭐⭐⭐⭐
They are too cute! I bought 3 sets. 2 toddler and 1 preschool size. Wanted to get more but cannot! Must control! But aren't they cute? 
Can't wait to start Little R on solids soon to use these! Can also use during crafts sessions in future too!

@jgsy.momslife
Mama Yay & our brands have been featured on